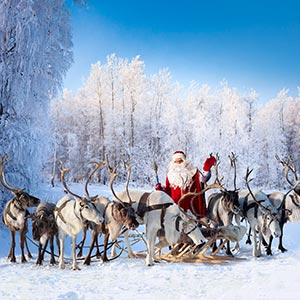 Christmas Travel Quiz
Here at Accor Vacation Club Travel we know that you are interested in all things cruise and travel, so we thought why not have a little Travel Quiz with a few Christmassy themed questions thrown in to ring in the season (and to test your travel knowledge).
Some are easy-peasy, most you can probably google (would that be called cheating?) and there are one or two that are really going to stump you…
Go on, give it a go, see how many you get right… or share this blog with your friends so they can test their Christmas and travel knowledge (and the all-important question – do you know more than they do?)
Here we go…
There are "Seven Wonders of the World", can you name them all?
(Bonus point: Which one is still standing – if a little worse for wear?)
Name the most picturesque way to travel to Kamloops?
In which country would you find a Geisha?
Where is Santa's Village located?
Name Europe's most mountainous country? (it's not where you think!)
What's the capital of Finland?
Name the world's largest living structure.
Where would you find "The Tube"?
Which pole do polar bears and penguins live in – north or south??
And one more…. let's make it an easy one – or not…
What is the REAL reason for Rudolph's red nose? (make it harder on yourself and name all of Santa's reindeers before you look it up on google!)
That's it. All done. Now look at the answers below and see which ones you got right, and the questions you needed to use google for! Follow the dots down…
.
.
.
.
.
.
.
.
.
.
Bit further
.
.
.
.
.
.
.
.
.
.
.
.
.
.
Little bit more
.
.
.
.
.
.
.
.
.
.
Here we are, all the Answers:
The Great Pyramids of Giza is the only monument still standing. The other six are the Hanging Gardens of Babylon, Temple of Artemis at Ephesus, Statue of Zeus at Olympia, Mausoleum at Halicarnassus, Colossus of Rhodes, and finally, the Lighthouse of Alexandria. Egypt is one of our up and coming destinations for 2019 – you could out on your explorer hat and discover the Pyramids for yourself!
Kamloops is a charming destination in British Colombia, centrally located on the iconic Rocky Mountaineer Rail route. Known for its great snow slopes, perfect for winter sports, Kamloops is also well known for its summer sporting adventures including hiking, biking, camping and cultural heritage including the remains of a 2000-year-old First Nation Peoples village. Looking to go on a Canadian adventure next year? Give Accor Vacation Club Travel a call and we'll get you on your way.
Geisha is Japanese for a "person of art" and although usually female, can also be male. The Geisha are highly trained in the arts of music, dance and entertaining.
The home of Santa Claus, or Father Christmas, is the North Pole, right– or so you would think! Many enterprising entrepreneurs in the Arctic Circle have set out to create a Santa village, reindeer and all! Check out santaclausvillage or book your room and stay at santas-home or why not have a meeting with the big red man himself. At Accor Vacation Club Travel we believe there is a little Santa Claus in everyone – which means he's everywhere!
Switzerland. A country of stunning natural beauty with towering glacier carved mountains, deep blue alpine lakes and green grassy meadows that arguably produce the best milk in Europe (not to mention chocolate and cheese). Ready to see this yodelling, fondue laden land? Speak with your Accor Vacation Club Travel specialist today on AU: 1800 70 80 90 or NZ: 0800 45 19 97.
Helsinki is the capital of Finland. The Baltics and Scandinavian countries have seen a surge in popularity this year among Accor Vacation Club Travel members, that looks to continue well into 2019. Why not witness the Northern Lights (Aurora Borealis) for yourself (or sneak in a visit to Santa to get on to his "Nice" list ahead of time.
The Great Barrier Reef – that's right! It is the world's largest living structure and it's right here in our own backyard. Have you been yet? 2019 may be the year to go.
The Tube is another name for the London Underground Railway. Built in 1863 it was the first metro rail line in the world. Head over to the UK in 2019 and ride The Tube!
Polar Bears live in and around the Arctic Circle to the north, and penguins prefer to live far away to the south in Antarctica and surrounding countries.
The REAL reason for a glowing red nose is based in fact! Yes – fact. We know, we were blown away too. A large part of a reindeer's diet is lichen, some of which is red, and some of which is bio-luminescent. The reindeer eat it, their nose rubs in the lichen around and hey presto, red glowing nose guiding Santa's sleigh through the night. Who woulda thunk it!?
How many did you get right? 3? 5? All 10!
However many, Accor Vacation Club Travel wish you a merry Christmas and a wonderful New Year full of every destination our world has to offer!
by Jacqueline Hamilton
Click here to read more articles