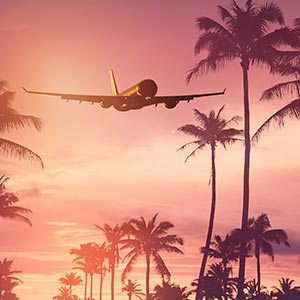 by Jacqueline Hamilton
Having only recently returned from Fiji – a well-deserved tropical holiday – we wanted to share some travel trips that will take you from your front door to your window seat as easy, and as carefree as possible.
Accor Vacation Club Travel's top 11 tips are:
1. Leave earlier. No matter how early you leave, add another 30 minutes to your travelling time. The unexpected does happen! It could be a flat tire, early morning traffic or getting stuck behind a wide load truck for half the journey. Then there are breakdowns (yours or others) and hold ups at airport parking. Of course, there is the almost obligatory wrong turn. I can't tell you how many times we have looped through to domestic when really we needed the international terminal – very frustrating.
2. Faster to Check-In Online. Everything these days is self-service. And checking in online saves you so much time. It's simple to use the automated ticketing systems and join the bag drop queue. No need for the long check-in line, no need to spend an eternity at a counter while you are inspected, your bags are weighed, tagged and a boarding pass allocated. (Unless, of course, the system goes down and then you are in the queue like everyone else anyway.)
3. Snap. Snap. If you are leaving your car at the airport, we suggest that you take a pic of where you parked, the section/level/carpark and any visible phone numbers just in case. This is vital. After a few weeks away, there is no way you will remember where the car is. Personally, I always use an airport parking firm that takes delivery and care of my car (nice and safe) and transports me to/from the airport from their nearby home base. No stress, no fuss.
Sneaky tip: Take a snap of the airport parking receipt, phone number and the car. That way you have reference to where the car is, a number to call and proof that your car was in (almost) perfect condition when you left it.
Note to self, if hiring a car, do the same thing. Great to have details, and you don't want to have to fork out for a scratch you didn't cause!
4. Being overweight. No, I am not talking about a well-rounded figure. We are talking about your suitcase being (a tad) over the required weight limit.
Hint: A luggage scale can help weigh your bags before you leave home.
Obviously, if you are over you will need to start rethinking all the gear you are taking. After all, on your way home you will need some room for souvenirs.
So…if you're stuck at the gate with an overweight bag your only solution is to dump it or wear it! That's right. Wear them onto the plane and lighten the load.
The heaviest things in your suitcase will likely be your shoes (definitely boots or sneakers), jumpers, jackets and coats. You can wear a pair of heavy shoes on your feet, jumper and jackets on, with a coat over your arm. If they have pockets – perfect! It's just another opportunity to stash pretty much anything
Hint: shoes fit well into deep coat pockets in a pinch.
Once you're onboard you can stuff everything into the overhead compartment anyway and forget them until you land. Easy
Sneaky hint: Try putting extra weight into a shopping bag from one of the Airport shops. These are unlikely to be included as "carry-on" should the worst happen and your actual carry-on bags are weighed at the gate.
5. Use any extra time in the airport wisely. If you haven't done this already, hook up to the airports free WIFI and research any connecting or stopover airport facilities. Does the airport have free WIFI? Where can you eat? Shower? Get a massage? Is there transport to the gates? How long will it take you to the gate and where are they? Are there any benefits for transiting passengers? (For example Changi Airport has a Transit Passenger Program that provides you with a voucher worth S$20 when flying with Singapore Air, Silk Air or NZ Air – very cool!).
There is nothing worse than sitting in an airport for a few hours waiting for connecting flights with nothing to do. Or worse still a tight connection where you have half an hour or less to get to a gate at the other end of the airport. Knowledge is power, so get online and find out!
PS: Don't forget to bring your mobile chargers for phones, ipads, cameras etc.
Accor Vacation Club Travel specialists suggest leaving ample time between connections, just in case of a flight delay, and when cruising it's always a good idea to get there the day or so beforehand. Not only do you get to relax after a flight, you can do a recce of where you need to be and explore the destination too.
6. Ziplock Bags. Custom's requires any liquid items over 100mL in your carry-on luggage to be put into a plastic ziplock bag. They are (thankfully) provided free of charge at Australian airports. (HINT: Grab a few extra's for locking in your wet swimmers or dirty clothes or snacks). I did note that on my way home that in Fiji Airport ziplocks were F$1 per bag – so be aware.
Another tip, if you haven't already done so, is to pack your undercarriage liquid items in a ziplock bag too. Should they break, everything will be contained so there should not be too much spillage. Personally, I store any breakables, jewellery or loose items in a little baggie and stick it inside my shoes. This way everything is protected and all in one place.
Note: liquid items inside shoes. If the worst does happen and there is a leak, remember you only have a finite number of wearable shoes… of course you can always buy more!
7. Get Comfortable. Stiletto heels, full makeup and a floaty dress may be the height of fashion for the ladies, however your feet will swell, this is definitely not a fashion show and the plane air con will have variable and volatile with temperatures approaching freezing and 40° alternately. Wear comfortable, layered clothing that is both flexible, presentable and will easily hide stains. And it may seem silly, but make sure your clothes are clean. You may be in them for longer than needed should your bags go astray.
8. A Spare Pair. We are talking your carry-on bags here people. A spare pair of underclothes is ALWAYS a good idea. As is a clean pair of socks, alternate comfy shoes, a change of T-shirt, your toothbrush and paste – basically anything easy to carry that will make you feel fresher after a long-haul flight.
9. Always have a pen handy. To fill in forms, baggage tags, random required signatures, and for the obligatory crossword book that will keep you engaged throughout the flight and is a great conversation starter with the people surrounding you.
10. No water for you! It's a bit annoying that you cannot take water through customs anymore, especially when you have just bought a highly priced bottle from the airport shop. It's the same one you are going to replace it with as soon as you are through customs. I now know better and take a light-weight, collapsible, empty water bottle with me in my carry on. Once through customs I can just fill it up and away I go.
11. Accor Vacation Club Travel specialists say "Take a Left" It's a little know fact that most people will choose the queue or customs line or security section to the right. This is because most peeps' dominant hand is the right one, so they naturally go that way. An international airport in any country can be difficult at times, with each country having its own specific customs policies, not to mention all the other people heading for their destinations. So, talking a left may just get you where you need to be that little bit faster.
Time to fly to your next destination? Start by speaking to one of our Accor Vacation Club Travel specialists on AU: 1800 70 80 90 or NZ: 0800 45 19 97 and jet set away to your next holiday.