My Alaska Cruise 'Island Princess' – Accor Vacation Club Cruises
Itinerary: Vancouver –
Inside Passage-Ketchikan, Juneau, Skagway, Glacier Bay, College Fjord to Alaska
Thought I'd share my amazing Northern hemisphere summer cruise extravaganza to Alaska this past year – exploring America's Last Frontier! Like many of today's modern-day adventurers, my vehicle of exploration was a highly stylized, luxury first class cruise ship. In my lucky case, the famous Island Princess! It was the perfect adventurer setting where a man/woman can be one-with-with-nature. Ashore by day and by night, back onboard and channeling my adventurer spirit into selecting the right wine with dinner or deciding what restaurant we would be dinning in this evening!
I've greatly anticipated this voyage to Alaska ever since I was a wee lad when I saw my first bear on TV in an Alaskan Salmon run fishing (or clawing) for dinner! The backdrop was snow-capped peaks and a glacier! My hope and intention was to see bears, glaciers and more bears (and any and all other Alaskan wildlife that I can squeeze in between!)
The cruise departed from the metropolis of Vancouver, Canada from its world famous CBD cruise terminal "Expo Place" – gateway to Alaska's Insight passage. I suggest sneaking in a couple days early to explore Vancouver, Stanley Island or perhaps take in Victoria Island or a Rocky Mountaineer rail journey into the Canadian Rockies. A great place to catch your breath or simply recoup from jetlag before heading north!
TIP: The Horizon Cafe on the cruise's 14th Lido deck is open 24 hours and is buffet style. A great quick way to start or end a day, perfect for a quick morning Brekkie (and its included as are all meals)! The ship set sail (next stop Ketchikan) and the festive sail-away party was the perfect event to reflect on the adventure (and bears) ahead!
With the Island Princess's high percentage of balcony cabins (yes I recommend!) she was the ideal cruise ship and base for our explorations of the Alaskan frontier. Her amazing amenities included: pools and spas including 6 hot tubs (I made it to all but one!), a 9- hole miniature golf, Lotus Spa, lap pool and jogging track (there's yoga classes too).
Over 9 decks of entertainment and dining options including some really great theatre productions, world class singers "I didn't know Frank Sinatra had a twin", night clubs, places to boogie and even a Fab Outdoor movie-theatre under the stars! I have to admit there was even some really great "econerdy" but really informative guest lectures that took place the day/night before the next new port, some were even given by US National Park Rangers and were very insightful! I guess I should also mention there were martini making demonstrations, ball room dance lessons and even a how to play Texas Hold'em demonstration – cool! Yes, they have a full casino onboard – who knew!
Ketchikan, Alaska – first port of call
TIP: It's a very easy city to walk around Ketchikan whether shopping or exploring the local sights. At this time of year the Salmon were in full motion clogging up the main creek (Ketchikan is also known as the Salmon Capital of the World and it delivered)! How cool! I loved it!
Juneau. Alaska – State capital – My first bear experience!
I booked The Whales, Bears & Glaciers Adventure Tour (I highly recommend it). It was the true Alaskan Adventure I always dreamed of – One day away from it all where I could be one with nature and the bears! Without giving too much away there were Orca Whales, Humpback whales (I counted 30), Bald Eagles and yes – all mighty Grizzly bears. The tour combined a cruise through Orca infested waters – amazing, great commentary by local Alaskan trappers and ended with a phenomenal flight tour from the remote town of Hoonah (bear inhabited Island – 3000 bears versus 1000 inhabitants) flying over and above the fabulous Mendenhall glacier! I lost count at all the "ohhs" and "ahhs" before landing back at Juneau Airport.
TIP: Check-out the Shore Excursions before you cruise via Princess Cruise's nifty "Online Personalizer". I would advise you do a little research before-hand on what you want to do and or see and then review excursions online before you leave (pre book the VIP bear tours as they fill up fast).
Ahhh yes, the bear fever had hit me even more!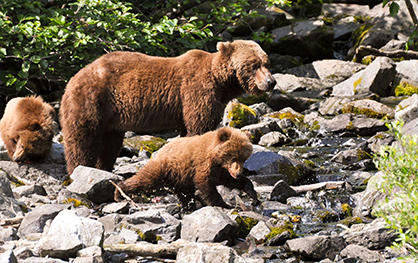 And now I had to see more – the official bear hunt had begun – game on! As it turned out I joined a fraternity of those whose destiny on the cruise was to see a bear… In fact the ship broke further own to two groups… Those who had seen a bear and those who had not! Much like the whale sighting fraternity as well!
TIP: The best King Crab spot in Juneau… "Tracy's King Crab Shop (907)-723-1811. It's a little wholein-wall just off the main shopping strip, pier-side, next to the big pier parking structure, south side.
They sell King Crab Legs, Dungeness crab and award-winning crab bisque – wow was that good! Eat in or Take Away! Do not miss this – especially if you want to experience local fresh king crab!
Next stop Skagway!
Skagway is at the very tip of the Inside Passage. Famous for its historical  significance as gateway to the famous Alaskan Gold Rush in the late 1800's. It's all about Gold Rush history here and the must do adventure is riding the famous Yukon & White Pass Railroad. The Yukon White Pass excursions are actually accessible right from the pier and you can board the railroad right next to the ship (pretty cool)!
Aug 28 Glacier Bay Cruising
After Skagway we headed to glacier country! Spectacular! I had no idea the treasures waiting in this truly wilderness area of the United States at the top of the Inside Passage. In fact this area is designated "wilderness" and can only be accessed via a special permit from the US National Park service. Cruise ships visiting this almost inaccessible area are limited to only one or two a day! It truly lives up to its namesake – Glacier Bay galore!
Early morning the National Park service sends a few rangers out by boat to meet your cruise ship. Rangers give factual and informative nature talks over the ships intercom system so whether your on deck, in the restaurants or viewing from your balcony in your stateroom, you can tune into the commentary and catch a glimpse of the marvels of mother nature from anywhere on the ship!
This is a journey through fjords cut out by 1000 foot glaciers that have slowly retreated to various ominous positions around the bay… Several Glaciers spill down from the mountains into the fjord in front of you. Elusive Puffins, Orca Whale, Humpback Whales, Dolphins and even the rarer shoreline sightings of Grizzly bears (yay!) are excitingly spotted around bends and bays as you make your way back to the crowning glory of Glacier Bay National Park, a personal audience with a Glacier.
Please see my picture – it's mesmerizingly close. I can't explain the awe. Here the huge ship is even dwarfed by this overpowering ice monument as the ship completes a beautiful 360 degree pirouette spin in front of the glacier so that everyone gets an intimate and special vantage point to take it all in!…
And if one spin wasn't enough we completed two 360 spins!!! All as this glorious glacier shed off a few chunks and "calved" right in front of us during the hour we sat on its doorstep – simply amazing!
TIP: Get out on deck as early as you can this day… I was on deck an hour before the early morning recommended time and was rewarded with some whale sightings that were uniquely my own! The majesty of nature in this pristine environment was overwhelming.
College Fjord Cruising
Just when you thought you'd been to glacier nirvana there was still one last amazing piece of the  glacier puzzle to see, the piste de resistance, College Fjord. A delightful overnight voyage out over the open Alaskan sea – a chance to enjoy all the amazing amenities of our cruise ship. We travelled along in the mesmerizing shadows of the towering coastal mountains and glaciers, majestically lined up on the distant shoreline as welcoming sentinels to the interior of Alaska just beyond the coast. We arrived at the entrance to College fjord – a natural wonder and gem that I knew little about but I was instantly captivated…
For the next three hours all passengers were out on deck hypnotized by the dozens of glaciers surrounding the ship from all sides, cascading down the shoreline from soaring mountains all around us!… Early explorers, proud alumni from various prestigious colleges and universities from the northeast United States decided to name these glaciers after their alma maters… Glacier names included the likes of Harvard, Yale and Wellesley all now part of the American wilderness vocabulary!
A glorious ending for our cruise.
TIP: Ask your Accor Vacation Club Cruise Consultant about one of the Princess Alaska Cruise tours that you can combine in conjunction with your cruise and visit Mount McKinley National park! There are more Grizzlies, wolves, mountain goats and moose to be discovered!!!!
Princess Rated: "Best Cruise line in Alaska" – by readers of Travel weekly, 5 consecutive years.