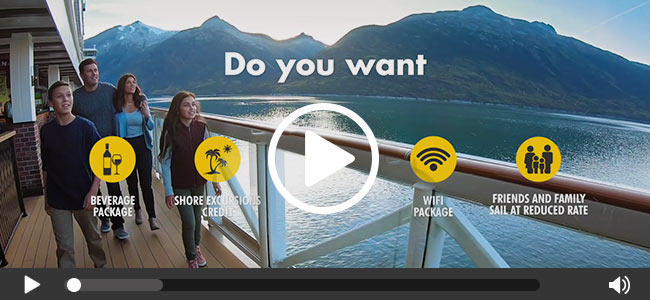 by Jacqueline Hamilton
Just what DOES it mean? FREE AT SEA? There are now so many cruiselines sailing from Australia and internationally, all with an equally wide array of cruise offers, discounts and bonuses to choose from. Sometimes it can get a little overwhelming, not to mention a tad confusing – so, let us explain the nitty gritty of this amazing offer from Norwegian Cruise Line (NCL).
NCL are giving you a selection of different BONUS OFFERS called FREE AT SEA just for booking a cruise with them! And they are included FREE… what better way to customise your cruise experience to suit you – a few FREE beers and fancy cocktails/mocktails? Gourmet dining? FREE Wifi? A little exploring? There's even an option to take your family & friends!  It's up to you to choose how you want to enjoy your cruise holiday. Let's investigate further…
At the moment, you can receive up to 5 FREE AT SEA offers when booking selected cruises with Accor Vacation Club Cruise and Travel, depending on your cabin preference and length of cruise. For a very limited time until 31 January 2019, you can score ALL 5 FREE AT SEA Offers when booking a Balcony cabin or Mini-suite!
Here's a handy table to get them straight:

Sooo… what exactly is FREE AT SEA? Before you book your cabin, or choose which FREE AT SEA options are right for you, take a look at what's actually on offer…
ULTIMATE BEVERAGE PACKAGE*
Wine with dinner, umbrella drinks by the pool, sunset cocktails and morning mimosas. When choosing the Free Beverage Package, you will enjoy a wide variety of spirits and cocktails, wines, draft beer, soft drink and juice on offer throughout the ship.
SPECIALTY DINING PACKAGE*
Take your taste buds on a trip of their own with so many delicious options available. Sizzling succulent Steaks, Bouillabaisse, Lobster Tail with butter and glistening Salmon Steaks with a touch of Crab and Asparagus – simply delectable, and there's so much more to eat!
WIFI PACKAGE*
Tweet, Facebook, Instagram, Pin and share all of your holiday moments while they're happening with NCL's Free WIFI Package. Stay connected with friends and family back home with up to 250 minutes FREE per stateroom when you choose to cruise with NCL.
SHORE EXCURSION SPENDING MONEY*
This option is all about exploring more of the shore. Visiting the wineries of New Zealand? A must drink, I mean must do! A Mud Spa in Fiji? Why wouldn't you! Dog-sledding in Alaska? Sure. How about snorkelling the Great Barrier Reef? You got it. Or dancing the night away in Vanuatu? And that's available too. Better known as Shore Excursion Credit, this option is available per stateroom. Chat to your Accor Vacation Club Cruise and Travel specialist when booking your cruise to discover your shore excursions today.
FRIENDS & FAMILY SAIL AT A REDUCED RATE*
Now you can easily invite your friends and family along for the cruise of a lifetime. NCL are offering a Reduced Rate for Family & Friends on selected cruises, where Guests 3 and 4 can enjoy discounted cruise fares when staying in the same cabin as Guest 1 & 2 paying standard fares. Speak with your Accor Vacation Club Cruise and Travel specialist today about your next cruise.
Psst… Sneaky hint: If your cruise has only one FREE AT SEA option listed, ask your Accor consultant if you could swap it for a different one… no harm in asking right!?
Which FREE AT SEA will you choose? Where will you cruise? Log on today and find your next NCL cruise or all-inclusive package deals to Australia & New Zealand, the gorgeous South Pacific, the white sands and blue skies of the Caribbean, discover Alaska's sparkling glaciers, explore Northern Europe, the Mediterranean or everywhere at once!
Still have questions? Your Accor Vacation Club Cruise and Travel specialist will be able to assist with additional FREE AT SEA details when booking your next Norwegian Cruise Line cruise – be quick, they are only available for a limited time only. Log on now or call Accor Vacation Club Travel today on AU: 1800 70 80 90 or NZ: 0800 45 19 97.
*Supplier terms and conditions apply.