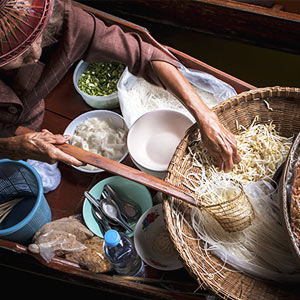 by Jacqueline Hamilton
Our Accor Vacation Club Travel team has collectively experienced several hundred, probably even thousands, of days travelling around the world. So, we kinda think we are THE experts in cruise and travel because we've been there and seen that! To give you some great insights into travel, our Accor Vacation Club Cruise and Travel specialists have shared their thoughts, tips, and general know-how below.
Now you can set off on your own expeditions and explore our vast and beautiful world on the right foot. Check out these tips we all wish we knew before we started to travel.
Take time to Organise all of your Important Documents
The most commonly overlooked thing travellers miss is the expiration of their passports. Make sure your passport is valid, have at least 6 months expiry (from date of return!!) and you have the appropriate visas for your destinations. The last thing you want when you're travelling is to be refused entry because you don't have the necessary documents.
Always have copies of all your important documents. Keep originals with you (obviously), have a copy in another place with you (suitcase) and give a set to family or trusted friend (usually your next of kin as per passport). Make sure you have a copy of your travel insurance documents, credit cards & contact numbers for replacements, ticket and itinerary. You could store them on your phone as a backup!
Take some of the local currency with you
Before you leave the airport, make sure you have a small amount of local currency of your next destination with you. Just enough to get a cab, give a tip or have a bite to eat before you head out to your hotel or tour group. It's only sensible.
Prepare for some travel hiccups
As with most things in life, you have to prepare for the unexpected stuff that can and will happen as you travel. Missed your flight connections. Lost luggage. Cancellations. Stolen credit card. Getting lost. Monsoon rains. Stuff happens. Keep yourself chilled and turn what can seem a negative into a positive. Missed connections and cancellations are a chance to meet new people and see new things – even if it is just at the airport (Dubai and Singapore Airports are amazing!). Lost luggage is a chance to buy something new. Stolen credit cards can be a pain, however as long as you have the replacement details you will soon be on your way. And maybe have a stash of cash for emergencies. Getting lost or bad weather is another opportunity to discover something new and interact with the locals. Who knows, it may be one of the highlights of your trip!
Go ahead! Talk to strangers!
I know your mum drummed it into you – but let's be honest there is a whole world of strangers out there just waiting to become friends. All we need do is say Hi! Locals know the heart and soul of a destination, they know the best places to see and how to get there. To fully get a feel of the place, go ahead and talk to strangers – just take your usual precautions to stay safe (and by that I mean, don't talk to axe-murderers, your mum would never forgive us!)
Photo, Photo!
With a phone in hand, it's so easy to photograph, video and record everything. Having a physical reminder that's easily accessible can be a great memory for you down the line. With that said, please take time to also enjoy the destination and the simple experience of being there!
Accor Vacation Club Travel say Embrace and Respect Every Culture
Smells and tastes of a different cuisine can be unique and interesting, and quite pungent – dried fish, fermented milk, fish sauce, blood sausage, haggis to name a few. So, to a different culture and people will have their own way of doing things, different to the way it's done in your country, and it may just catch you off guard and surprise you. This is why we travel. To see, feel and experience the differences. Environments, traditions, foods, cultures, history, everyday living, politics, world and personal views are just some of the diversities you may find when travelling.
Open your mind, respect and learn about your destination's point of view and culture. While you may not agree, at the very least listen. Not only will you learn how to act and respect other traditions, you'll might just learn more about yourself! That's always a plus in our book!
Pack Light
Seriously, you DO NOT need four suitcases. You don't even need three. To be honest, you don't even need one. I'm serious. Travel should be a simple easy experience and not necessarily a fashion show. Trust us, no one remembers which pants you wore yesterday. As long as you are prepared for a little laundry on your trip packing light should be a breeze. Go on, give it a go and live dangerously. Pack so light that you only need a carry-on. Think of all the lines and the waiting you won't have to stand in to collect your luggage.
Food, Glorious Food (no matter how odd looking)
Some of the magic of travelling is in trying new cuisines. I like to do as the locals do and eat the local delicacy of any region. Eat everything! Garlic snails in a Paris café (delish!), traditional tapas and white port in Porto (what a great night that was!), Pho Ga in Hanoi (fresh fresh fresh), Austrian Apfelstrudel (sheer heaven), Cambodian fried tarantulas (a little bit crunchy), Poutine in Canada (I'm sorry but this looked and tasted revolting – cheese curds and gravy over chips, and I ate it – Yuk!), live octopus in Korea (slimy – again not a fan), fresh noodles tossed through Pad Thai in Thailand, cooked right in front of me, was so fabulous I would travel there just to eat!
It isn't just the food, it's the whole atmosphere around you. Being right there, in situ, tasting often interesting and unique foods – even eating the poutine was a somewhat pleasurable experience (don't do it) sitting in a cowboy bar in Calgary with boot scooters all around me – another fabulous night!
Again, we say, have your belly safety in the back of your mind – hit only popular places, recommendations from friends or travel companions, small local restaurants or check out the popular local street food and have some fun.
Are you prepped and ready for your next adventure? Our Accor Vacation Club Travel specialists are waiting for your call on AU: 1800 70 80 90 or NZ: 0800 45 19 97