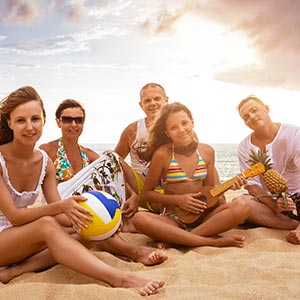 With summer just around the corner, it's time to look forward to your summer holiday
This means setting yourself up so you REALLY enjoy the whole experience. NO stress, NO fuss, MAX time for family bonding and above all, complete and utter relaxation.
So, to make your summer holiday as hassle-free as possible here are our fab 5 tips to keep you stress-free and carefree. Let's get this party started!
1. Leave work at work
Travelling gives you the chance to leave the world behind you and just relax. The whole reason you are given annual leave from work is because you actually need to take a break – and take a break you shall!
A spa retreat, luxury staycation, a cruise to somewhere exotic, a European tour, Asia river cruise… even an adventure that will see you hanging from the end of a bungy rope will give you that distance from work. Which means you actually relax, think about other things… and let's face it, in this hectic, hi-tech modern age we really don't get to have a holiday that often.
2. Where to Stay
If you want to make the most out of your holiday, then you'll have to choose the right kind of accommodation for you and your family to enjoy. Whether you're going for a hotel staycation, a lavish resort stay, or a gorgeous balcony cabin (or why not splurge on a suite!) on a luxury cruise ship, all can be planned ahead, paid for ahead of time, that reduces stress when it comes to head away and it also almost always guarantees better rates.
Don't worry if you have left things to the very last minute – Accor Vacation Club Travel have a sneaky holiday option up their sleeves to offer you – all you need do is call!
3. There's a First Time for Everything with Accor Vacation Club Travel
They say there's a first time for everything… and you definitely experience "first times" whenever you travel. Seeing the world allows you to discover different cultures, new people, and different things that you've probably never experienced or even heard of before. Maybe it's time that you finally learn how to scuba? Or perhaps conquer your fears and go for your first bungee jump? It doesn't have to be that extreme, though. Perhaps you'd love to immerse yourself in cultural heritage, art galleries or the wilderness and natural habitats? Or maybe that expedition cruise to Alaska or Antarctica is more your style? There are so many opportunities waiting for us in this big wide world, we just have to get ourselves onboard.
4. Get Lost…
Not from our page of course! We're talking about getting lost during your travels. Going off the beaten path, where you might discover an exciting new place or new friends and experiences. Being spontaneous on occasion can balance a planned itinerary. When you have a free day to just explore your destination, do it. Go rogue. Be daring. Turn left instead of right, visit a local market, find that hidden experience only the locals know about, speak with your Accor Vacation Club Travel specialist – they have a wealth of knowledge just waiting to be accessed.
5. Quality Family-time
Your meant to enjoy the time you have with your family – experiencing life and doing "stuff" together while on holiday. You, and they, are at their most relaxed and fun is on the menu! Leave the laptop, iPads, and mobiles in the room (at home if you can bear it), and truly have some quality time with your family. A holiday is more than sights and sounds, it's your time together that will create the memories you will all cherish in years to come. Sharing in the experience is one of the best aspects of any holiday, and being with your loved ones just makes everything sweeter.
SNAP:  Take lots of candid snaps so that you can keep the best moments with you always!
Follow our tips and your summer holiday will be the best one yet!
Did you forget to book a great Summer Holiday? There's still time for a last-minute South Pacific cruise or a great staycation somewhere exotic – what a great Christmas present it would be for all the family to enjoy! Don't miss out, call Accor Vacation Club Travel specialist to arrange everything for you now on at AU: 1800 70 80 90 or NZ: 0800 45 19 97