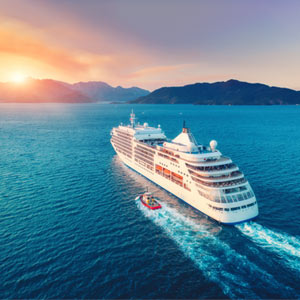 Thousands of people, just like you, search for the perfect holiday each and every day. Whether you choose the road less travelled or you choose the more popular destinations, let's take a look at some holiday ideas for savvy travellers to experience the world.
Cruising with Accor Vacation Club Travel
A floating boutique hotel – what's not to love! You are actually climbing onboard a luxury floating hotel with accommodation, entertainment and dining all rolled into one. Plus, visit multiple destinations throughout the world or relax and enjoy the cruising atmosphere as you sail. It's such a simple and easy holiday, especially for families where the waterparks, slides, games and activities, not to mention amazing kids' clubs, can entertain your little ones for hours – teenagers too!
Discover tropical islands, the coastlines of continents, sail the coastlines of the Mediterranean, or step up the luxury onboard a river cruise through the very heart of Europe. Explore exotic Asia, the glaciers of Alaska, or the stark beauty of Antarctica and the brilliant colours of the Kimberley. If there is an ocean, sea or navigable river nearby, Accor Vacation Club Travel will find you a cruise.
Escorted Tours with Accor Vacation Club Travel
Multi-destinations, new found friends, luxury buses with friendly drivers and knowledgeable guides sharing travel insights and unique locations you may never have found by yourself. The beauty of an escorted tour is simple this – the logistics are all taken care of and there's safety in numbers. You just need to sit back and enjoy the ride. Flights from nearby major capitals; hotels, home stays and even camping in the wilderness from 1 through to 5-star (depending on the tour or experience), airport transfers, many of your meals and guided sightseeing are usually all included. Although many are fast-paced overnight highlights of any given destination, today's modern-day escorted tours are now finding additional benefit in a much more relaxing journey with extended time on offer to patrons.
Multi-country romps or destination intensive sojourns are both on offer throughout Europe. Unique destinations along roads less travelled let you climb high atop mountains to Machu Picchu, explore the wildernesses of Denali National Park, find peace and serenity in remote Tibet, trek through historic Petra and Egypt, hunt for bargains in Morocco's famous Souks – freedom of the world can be experienced to the full, all you have to do is pick one.
Safari with Accor Vacation Club Travel
This is the ultimate bucket-list for many travellers to see the "Big Five" in the wild. Essentially African animals in the wild – lion, elephant, rhino, buffalo, and leopard. Trekking through the jungle to Victoria Falls, to hear the thundering roar and feel the spray of water on your face. Climbing Mount Kilimanjaro or Silverback Gorilla in Four-wheel diving across the plains of the Maasai Mara, coming face to face with hippo, cheetah, crocodile and wildebeest.
You can also go on a safari in India or the untamed tundra of Siberia in search of endangered Tigers, on a desert safari in Dubai or Australia, explore the Indonesian rainforest habitats of the Orangutan and Komodo Dragon or a tropical reef safaris to swim with whales or sharks off the shores of a South Pacific Island, and more. Wherever you find wildlife and remote untamed areas, there will be a safari focused on learning, discovery and preservation. Just ask Accor Vacation Club Travel – we know!
Road Trips with Accor Vacation Club Travel
Whether it be a weekend getaway a day away, a longer distance to another state or that iconic trip to another country, it's all about the open road. You are in complete control of your holiday – where you go, what to do and how to get there. Explore the great sandy deserts and national parks of outback OZ in a four-wheel drive, become a New Zealand nomad in a comfortable campervan where your transport and accommodation are already taken care of, the wind blowing through your hair in a racy, red convertible along USA's iconic Route 66.
Go further afield as you drive the Hokkaido Scenic Byway in Japan. Follow the footsteps of the Golden Silk Road to Samarkand. Join the ring road of Iceland for active volcanoes and mythical landscapes. Hug the coastline of Argentina or criss-cross the countryside to discover the uniqueness of Patagonia. Wind your way along mountain passes of the French and Italian Alps, or the National Parks of Canadian Rockies from picture-perfect Lake Louise to Jaspers peaceful mountain majesty.
Rail journeys with Accor Vacation Club Travel
Rail enthusiasts and historians alike are going to love this mode of transport. Even travellers who are looking for a gentler way to travel are attracted to the world's best train journeys. From the high-speed bullet train of Japan to the romance of the legendary Orient Express through Venice, Vienna, Budapest and Paris, to the clank of the Glacier Express climbing high into Switzerland's snowy peaks, each is an engineering feat that will take you across a city, into the countryside or the wilderness to create a unique and interesting experience that is not to be missed.
Arguably, the world's best rail journeys include Russia's Trans-Siberian travelling from onion-domed Moscow through forest and tundra to Vladivostok, 10,555 kilometres to the east. Australia's spectacular Ghan railroad traversing the desert outback from Darwin to Adelaide, via Katherine and central Alice Springs, or vice versa. The luxurious Blue train of South Africa's wide-open plains or the Taj Mahal of trains to see the sights of India in unparalleled indulgence onboard the Maharajas Express, a literal palace on wheels. Cross the untamed wilderness of the Rocky Mountains onboard the world-famous Rocky Mountaineer or explore Peru's panoramic views of the Andes, Cuzco and Machu Picchu as you climb onboard Hiram Bingham Express. Travel off the beaten track, visit the world's most interesting destinations, relax and enjoy the ride – either way it's all aboard for adventure!
Independent Travel with Accor Vacation Club Travel
It's up to you to decide where to next, how long you will be there, where you will rest your head, what you'll eat and what you'll see when you get there. Can I do that I hear you ask? Absolutely! And we have some brilliant ideas. By road, rail, or tour, by safari, sea and air, Accor Vacation Club Travel will take you there.
Popular (and not so popular) destinations, who's coming with, what to pack, when to book, the best value are all questions easily answered by Accor Vacation Club Travel specialists.
What are you waiting for? Call today on AU: 1800 70 80 90 or NZ: 0800 45 19 97
by Jacqueline Hamilton
Click here for more articles