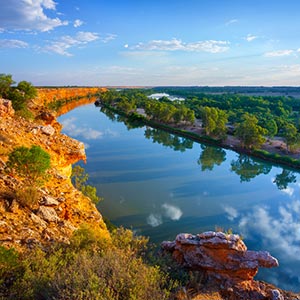 The Fish are Jumpin' on the Mighty Murray
The mighty Murray River is experiencing a flood of excitement now. Summer is arriving and it's the perfect time to take that long-awaited, much anticipated Murray River cruise.
Summer creates a new vibrancy and excitement on the mighty Murray. Endless blue skies, cool river breezes and a profusion of wildlife, fish and bird life dependent on the river.
Fish leap high from her waters. The ubiquitous Murray Cod, silvery Bream, playful Perch and Redfin are as plentiful as the glorious vibrant wildflowers that have bloomed once more. Abundant bird life and wildlife is returning to the river shores including emus, koala, Western Grey kangaroos, Bearded Dragon lizards, red-rumped parrots, black swans and pelicans.
Exceptional beauty
Now is the time to get onboard Captain Cook's Murray Princess to visit the Murray at it's stunning best. Be surrounded with the beautiful Australian countryside and become familiar with a true serenity for a real sense of serene peacefulness that only the Murray can bring.
On board a fully restored, luxurious paddle boat discover old riverside ports, lush vineyards, and navigate the mighty Murray's locks and wide river bends. Sail past mallee scrub and ancient red gum forests, through towering gorges, ochre-coloured limestone cliffs and experience first-hand indigenous bush-craft and unique cultural heritage as the river drifts along, quietly, unhurried.
Iconic
The iconic Murray River has a character of its own, unique to Australia that encompasses exceptional environmental beauty, a rich diversity and cultural heritage. What better way to experience grass-roots Australia than from the deck of a charming paddle-wheeler!
Get onboard a Captain Cook Murray River cruise today when you speak with an Accor Vacation Club Travel Solutions Specialists at AU: 1800 70 80 90 or NZ: 0800 45 19 97
For more informative articles on cruising visit Accor Vacation Club Cruises.