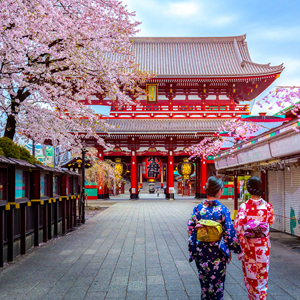 What's on your 2019 Bucket-List?
By Jacqueline Hamilton & Kevin Montalbo
What's on your 2019 Bucket-List? Have you noticed that the world is a huge place and the number of destinations you can choose for a holiday at Accor Vacation Club Travel are endless?! To give you a little bit of inspiration for your 2019 bucket-list, we have come up with our top pick destinations – we hope you like them as much as we do!
Let's get started…
Japan
The "land of the rising sun" is hard to beat if you want to witness modern technological advancements AND appreciate a timeless culture all in the one place. Ancient traditions are interwoven into the daily, modern hustle and bustle of life from staying in traditional Japanese ryokan to sampling oodles of noodles of yummy ramen, swooshing and swishing for some world-class skiing to taking a relaxing dip in onsen (Japanese hot springs) and simply being floored by all the sparkling lights of modern-day Tokyo. With a wealth of things to discover in Japan, we suggest you cruise around the islands with Princess Cruises, Royal Caribbean, Cunard, Holland America (and more) to create the ultimate holiday.
Norway's Fjords
Visit during the winter to witness the awe-inspiring spectacle of the Northern Lights. Or, on the other hand, enjoy the summertime and experience how to live in a country where the sun never sets for a must-see-to-believe experience of a lifetime. Norwegian fjords are just one of the many reasons we can recommend a visit to Norway and Scandinavia. Considered one of the most beautiful countries in the world and ranking among Europe's largest, Norway's spectacular soaring glaciers, pristine icefields and natural environment are complemented by charming traditional villages and arctic-inspired city architecture. Cruising Norway, the Baltics and Scandinavia are Royal Caribbean, Cunard, Princess Cruises and Viking Cruises, to name but a few, search Accor Vacation Club Travel today.
Santorini
Dubbed as one of the world's most popular destinations, it's seaside treasures of deep blue waters, volcanic red, white, or black sand, oceanfront restaurants and bars, Fira's ultra-steep donkey ride from the cruise port at the base of the cliffs up to her marketplace filled with jewellery, decorative glass, high end stores plus every trinket and souvenir imaginable, are a drawcard for everyone. Make sure to visit one of the traditional bakeries dotted around every town – spanakopita (cheese and spinach triangles), biscuits freshly made, and some have gyros from heaven (OMG Yum!). Step out of Fira and Oia's touristy towns and head south-west to Akrotiri (Santorini's lighthouse), walk the steep tracks along the cliff faces or hike a volcano, explore the islands smaller townships, sail or take a plunge in volcanic hot sea springs – life couldn't get much better than this!
There are a few places in the world quite like Santorini. Romantic, tantalizing views of the volcanic seascapes captivates everyone from honeymooners, couples, singles, friends and families alike. Santorini is renowned for her charming whitewashed towns clinging to a multi-coloured cliff face of an extinct volcano. The traditional blue and white of the Greek flag is, we think, showcased by Santorini's white upon white houses and vibrantly blue sea and sky. Along with the white and blue-domed churches, each will take on a subtle change at sunset – best seen from Oia, as the sun softly caresses and bathes each in a gentle golden glow. Ready to discover the Greek Islands? Accor Vacation Club Travel can take you there.
Antarctica
The last (and we think the most spectacular) holiday destination for 2019 is Antarctica, with her breathtaking scenery of sprawling frozen lakes, tremendous ice shelves and a whole host of wildlife ranging from thousands of penguins, soaring albatross, a cacophony of migratory birds through to sealions, elephant seals and massive whales breaching the inky depths. Don't miss out on the Beagle Channel and Magellan Strait of South America, the South Shetland Islands perched so near to the Antarctic Peninsula, or the environmental wonderland of the Ross Sea – listed as one of the "least altered marine ecosystem on Earth". During the Antarctic summer several cruise lines offer luxury adventure cruises aboard ice-strengthened ships – they fill up fast, so book early! Accor Vacation Club Travel suggest cruiselines venturing south including Aurora Expeditions, Silversea, Ponant, Scenic Cruises and GAdventures.
Maldives
Dive coral walls, atolls, float above sunken gardens and brilliant reefs, as tropical fish and other marine life circle around you. This is some of the best diving and snorkelling in the world… which is why it belongs on our top holiday's list. Many believe that the Maldives is "THE" first-choice tropical holiday destination in the world – which may or may not put you off – with glorious white-sand beaches, clear azure waters under vibrant blue skies and that tropical island paradise feel is enough to tempt most to visit the Maldives. Fly there and stay in a luxury resort, or your own island paradise, or climb aboard a cruise ship to enjoy the many beautiful islands of the Indian Ocean from the comfort of your deckchair.
Taj Mahal, India
Arguably one of the most admired architectural masterpieces throughout history, the many photographs, brochures, and online images simply don't do it justice – you HAVE to see it in person! The Taj's soul-stirring beauty with its rhythmic combination of concave and convex light shadowing, its crenelated arches and domes with intricate relief work make this one awe-inspiring monuments of the world. Accentuating its beauty further is the vast Mughal garden, the Yamuna River, and ancient tombs and mausoleums, complemented by bustling colourful marketplaces. The Taj Mahal definitely belongs in our top destinations for 2019. Visit India in style with Collette, APT, Globus, Intrepid and others, offering complete travel itineraries through Accor Vacation Club Travel.
Did your favourite destination make it onto our 2019 list? Are you ready to go? We can take you there – visit Accor Vacation Club Travel now or just speak with our friendly Accor Vacation Club Travel Solutions Specialists at Accor Cruise and Travel on AU 1800 70 80 90 or NZ 0800 45 19 97.